Incorporating an Airstream hotel room in your amenity is a wonderful way to ensure your guests get the unmatched comfort they deserve while enjoying their adventure.
Built with quality craftsmanship, Custom Airstream offers hotel rooms designed to provide your guests with a comfortable stay while offering all the amenities of a home.
Our unique and stylish Airstream hotel rooms provide all the convenience of a modern hotel room, combined with the charm and relaxation of a classic camping experience.
When you work with Custom Airstream, you can expect to get hotel rooms with the following features:
Stunning interiors come equipped with luxurious bedding, modern appliances, and top-notch amenities
Plenty of storage space so your guests can feel right at home during their stay
Outdoor patio so guests can enjoy panoramic views of the surrounding scenery
Of course, we customize the Airstream hotel rooms to match your unique vision and preferences. Whether you're looking for a vintage-style room, a modern suite, or something in between, Custom Airstream will work with you to create the perfect hotel room for your guests.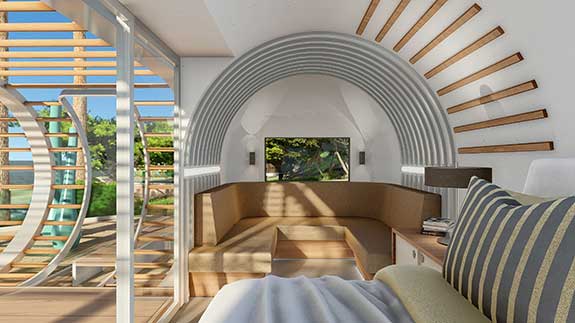 Why Should You Have an Airstream Hotel Room?
There are many reasons you should consider having an Airstream hotel room at your property. The main benefits are:
Eco-Friendly and Sustainable Rooms
Custom Airstream focuses on being eco-friendly and sustainable. We find innovative solutions during the manufacturing process to reduce our environmental impact. We ensure the airstream hotel rooms are energy efficient and work on reducing the overall carbon footprint.
Cost-Effective and Practical
An Airstream hotel room provides a cost-effective and practical way to accommodate your guests. Not only are our rooms affordable, but they also are much more convenient than traditional construction methods, as it takes less time to build them. This means your guests can start enjoying their stay sooner.
Enhanced Comfort
We use top-of-the-line materials to build the airstream hotel rooms. This ensures your guests feel comfortable and cozy in our luxurious and stylish interiors. With upgraded amenities, stunning views, and a memorable glamping experience, the Airstream hotel room will make your guests feel right at home.
Unique and Memorable
Our Airstream hotel rooms offer an unforgettable experience for your guests. You can customize the interiors to fit any theme or style, creating a unique atmosphere that will have them coming back time and time again.
Increased Revenue
Airstream hotel rooms are sure to give you an edge over the competition. Your guests will be impressed with your unique style and amenities, resulting in increased revenue for your business.
Custom Airstream Is At Your Service
We understand that everyone has their own vision of what the perfect hotel room should look like. This is why we work closely with each one of our clients to create a custom Airstream hotel room that fits their needs and preferences.
Custom Airstream brings innovation to the hospitality room experiences and can integrate the best of local customs and designs.
How Much Will I Pay for an Airstream Hotel Room?
There is no "one cost fits all" when pricing an Airstream hotel room. The cost will depend on the size and features you choose, as well as any customization requests.
However, we strive to make our hotel rooms affordable for all budgets so that you can get the perfect room for your property at a price that won't break the bank.
How Much Time Does It Take to Build an Airstream Hotel Room?
Custom Airstream prides itself on its fast and efficient construction process.
We typically complete building your Airstream hotel room within one year, depending on the complexity of the project and number Airstream hotel room units.
Our streamlined production system allows us to have shorter lead times so that you can start accommodating guests sooner.